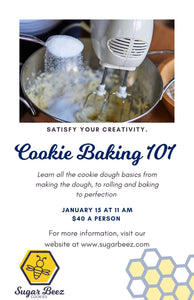 Whether you're brand new to cookie baking, or looking to perfect your recipe, this class is for you! Tracy, of Sugar Beez, will show you, step by step, how to make her delicious cookies. From making the dough, to rolling and baking to perfection. This all ages class is perfect for novice to expert bakers looking to perfect their skills.
Now with a virtual option! Interested in the virtual option? Supplies needed will be shipped to the student prior to the start of the class. A link to the virtual meet will be emailed the day before scheduled class. Please email with any questions!
Class is subject to cancellation for low attendance, unforeseen circumstances, and reasons outside of our control.
If for some reason, you too need to cancel, please contact us at you're earliest convince and we will do our best to accommodate you're request.